7 Secret(ish) Swimming holes around Austin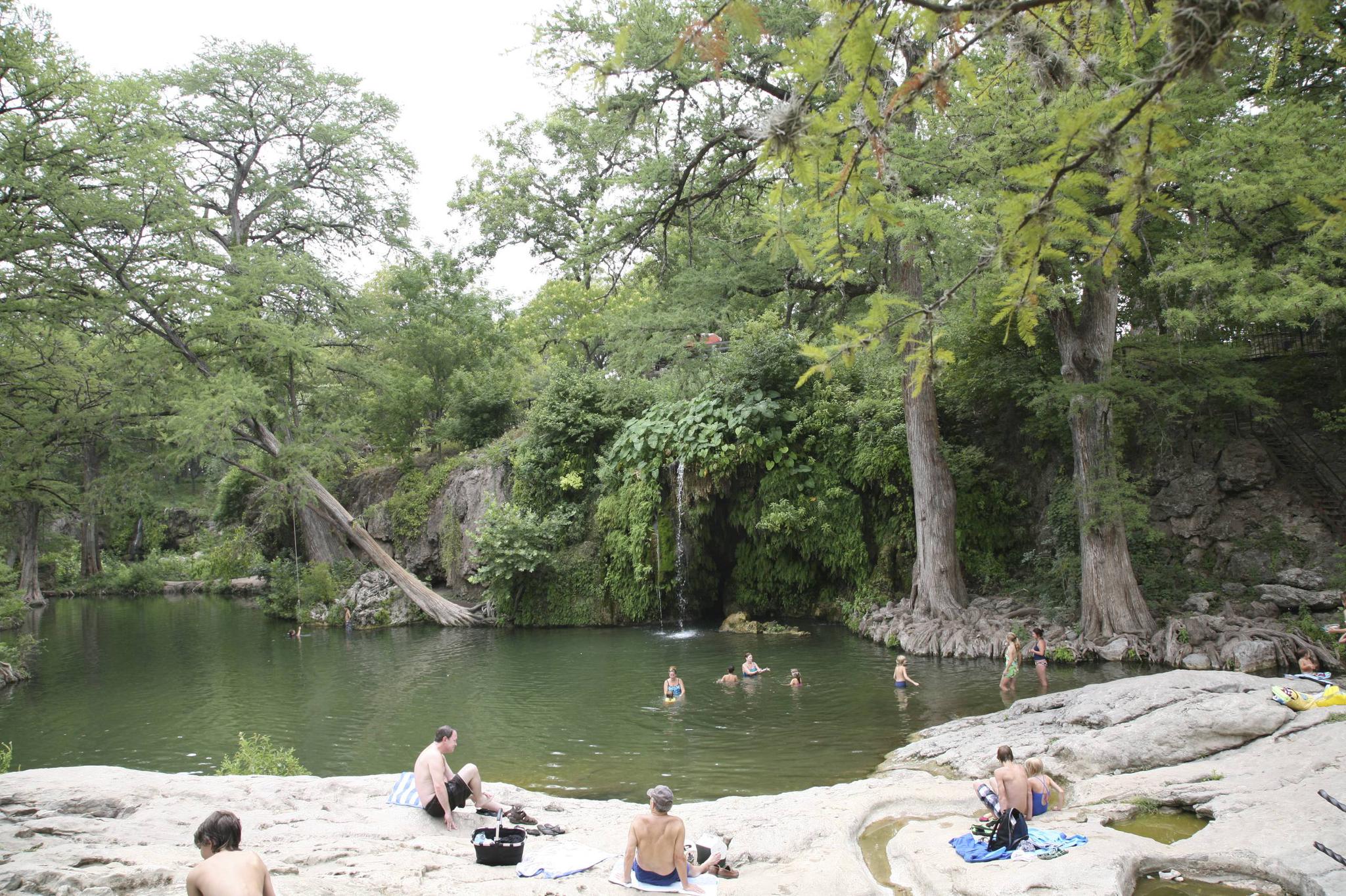 Summers in Austin aren't for the faint of heart, when temperatures climb upwards of 100 degrees and foolhardy souls who venture out onto the streets are drenched in sweat faster than you can say, "Welcome to Texas."
Mercifully, in addition to scorching summers, Austin is home to lush, pecan- and cottonwood-shaded watering holes, springs, and creeks where waterfalls cascade down craggy rocks and girls tan topless on towels. When temperatures soar, Austinites pack their coolers with Lone Star tallboys, wring out their swimsuits, crank up their cars' AC, and hightail down to the water.
Predictably, popular spots—say, Barton Springs and Hamilton pool—can get pretty packed during the summer. If you want to outsmart both the heat and the crowd, sneak on over to one of these secret(ish) Austin swimmin' holes:
1. Lost Creek
Lost Creek Blvd and Bend of the River Dr, Austin, TX 78746
Admission: Free
Alcohol permitted: No
Shower facilities: No
Parking in the surrounding neighborhood can be a challenge, but finding a space is only the beginning of your intrepid quest to the elusive Lost Creek swimming hole. 
Access the trail under the bridge crossing Lake Austin, then take the second split to the right. You'll stumble upon a watering hole pretty early in your journey—but don't be fooled! Though this initial pool may tempt you with its proximity, it is not the hole you seek. The true Lost Creek is still a good 25-minute hike across the creek and through the woods. You'll know you're closing in on your destination when you hear the sound of gushing water, booming stereos, and cracking beer cans. With its wide, natural waterfall and it's relatively safe distance prowling coppers enforcing the Greenbelt's strict "no drinking" rule, Lost Creek is worth the trek.


2. Bull Creek
7806 N. Capital of Texas Highway, Austin, TX 78731
Admission: Free
Alcohol permitted: No
Shower facilities: No
If you come in via Bull Creek's main entrance on a summer weekend, you may find yourself right in the middle of flocks of families picnicking on the rocks and vendors hawking popsicles, chicharrones, and spicy mangos. To sidestep the masses, you can head left down the trail or through the shallow water (careful, it's slippery!), where there are plenty of secluded areas—complete with waterfalls and smooth sunbathing rocks — awaiting those determined to discover them.
3. Azul: Downtown
310 E 5th St, Austin, TX 78701
Admission: Free Thursday - Sunday from 11 a.m. - 9 p.m.
Alcohol permitted: Yes
Shower facilities: Yes
It may not be a natural swimming hole, but with poolside cocktail service and free public admission Thursday through Sunday, the Azul pool on the roof of the Westin Austin Downtown merits a mention. As the tallest pool-bar-lounge in Austin, this swanky spot boasts 180-degree views of the city skyline reaching as far as Barton Creek.


4. Barking Springs
2201 Barton Springs Rd, Austin, TX 78704
Admission: Free
Alcohol permitted: No
Shower facilities: No
Barton Springs, one of Austin's most beloved swimming spots, is a three-acre manmade pool fed from underground springs. It's a refreshing 68-degrees year-round, edged by soft, manicured grass, and meticulously scrubbed clean every week. But it's also $5 for residents and $9 for non-residents during the summer, and coolers and dogs are strictly prohibited. 
Immediately east of the springs, you'll find what is sometimes referred to as "Barking Springs", where there is no admission fee, no lifeguards, and no rule against dogs. If you want to save your $5/$9 admission fee for Purple Ritas at Baby Acapulco later, pull your cooler past the bathhouse and down to the banks of this puppy-friendly creek.


5. Krause Springs
404 Krause Spring Rd, Spicewood, TX 78669
Admission: $8 adult/$5 child
Alcohol permitted: Yes
Shower facilities: Yes
This Spicewood manicured oasis lies about 30 miles northwest of Austin, but is well worth the hour-long drive up from the city center. Beneath the shade of ancient cypress trees, explore acres of hiking space surrounding the 32 natural springs. If you're feeling daring, you can rope swing from the craggy cliff overlooking the natural waterfall-fed lagoon.
6. Georgetown's Blue Hole
2nd St & Rock Street, Georgetown, TX 78626
Admission: Free
Alcohol permitted: Yes
Shower facilities: Restrooms
Long, long ago, you could jump from the scenic limestone bluffs framing the northern shore of this 40-yard-wide lagoon. Today, "Jumping from the cliffs is NOT PERMITTED", as the City of Georgetown's website warns in bold letters. Park rangers patrol the area, delivering stern warnings (and sometimes steep fines!) to rulebreakers. Don't let them spoil your fun, though; there's still a waterfall to splash around in, deep spots to swim, and beer to be drank, so long as they're in cans.
7. Gus Fruh Trail
2642 Barton Hills Dr, Austin, TX 78704
Admission: Free
Alcohol permitted: No
Shower facilities: No
Pop by Gus Fruh Trail after steady rainfall, and you'll find a swimming hole that's deep and cool. Visit Gus Fruh after a dry spell, however, and that same pool all but vanishes. If you do make the trip all the way down to South Austin only to find the watering hole dry, however, you can still enjoy salvage the afternoon with a stroll down the pretty wooded Gus Fruh trail. Check out the rock climbers scuttling around the Kingdom of Ging wall, which is distinguished by the pretty-cool seven-foot cave running the length of its base.